CNC Turning of Aluminum Fisheye Housing Assembly for the Projection Industry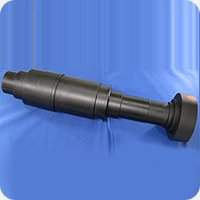 Wordingham Technologies manufactured a four-component fisheye housing assembly used in a projection application. Using CNC turning on a 6061-T6 aluminum base material, pieces of varying diameter and thread are manufactured. The outside diameter of the largest piece measures 6.313″ across, and thread size and pitch ranges from 5.469-32 UNC-2B to 2.406-32 UNC 2B. All manufacturing processes on this piece maintain a tolerance of ±.0005″, with a circular runout of ±.0005″ and a perpendicularity of ± .0005″. Maintaining proper tolerance is important, as the housing pilot must fit so that it can be assembled and disassembled as needed.
After CNC turning is completed, pieces are finished with a black anodized layer and a surface finish of 16 RMS, and then assembled, with an overall final length of 24.059″. We work from a customer supplied print, and perform in-process testing and quality control requirements determined by Quality Supervisor. This piece is an excellent example of our CNC turning, machining, and assembly expertise in opto mechanical components. For more information on our capabilities, please contact Wordingham Technologies today.